Full Color Plastic Card - Tap Business card
---
---
Description
We are the ONLY company that can print edge-to-edge full color images, ship the next day, and with a minimum order quantity of just 1. This product is also brand-less, meaning "Tap Tag" is not smeared all over it. It represents YOU and only you.

These PVC NFC business cards are the same size, feel, and thickness of your average plastic credit card. The chip is entirely hidden on both sides and works from up to 3 inches away from your smartphone. Our advanced printing process prints photo-quality images and then coats the ink with a protective layer for durability. 
Comes Pre-loaded with a Free digital profile/contact card, claim the profile by tap/scanning the card for the first time. Manage/edit your contact card at anytime remotely via the dashboard. (make free account on first tap)
✅ Unlimited scans
✅ No subscription
✅ No app or Tap Tag required to scan
Comes Pre-loaded with a Free digital profile and a matching QR code, claim the profile by tap/scanning the card for the first time. Manage/edit your contact card at anytime remotely via the dashboard. (make free account on first tap)
No subscriptions. Unlimited tap/scans.
NFC and QR are Dynamic, meaning you can redirect to ANY website of your choice remotely at any time, this temporarily overrides the contact card. Can be toggled on/off any time from dashboard. 
Re-programmable open-sourced chip allows to change the contents of NFC chip at any time
Compatible with almost all smartphones
NTAG215 256 byte memory
Do not need a Tap Tag or app to scan card, just a smartphone
Credit card-sized, 85mm x 54mm or 3 5/16in x 2 1/16in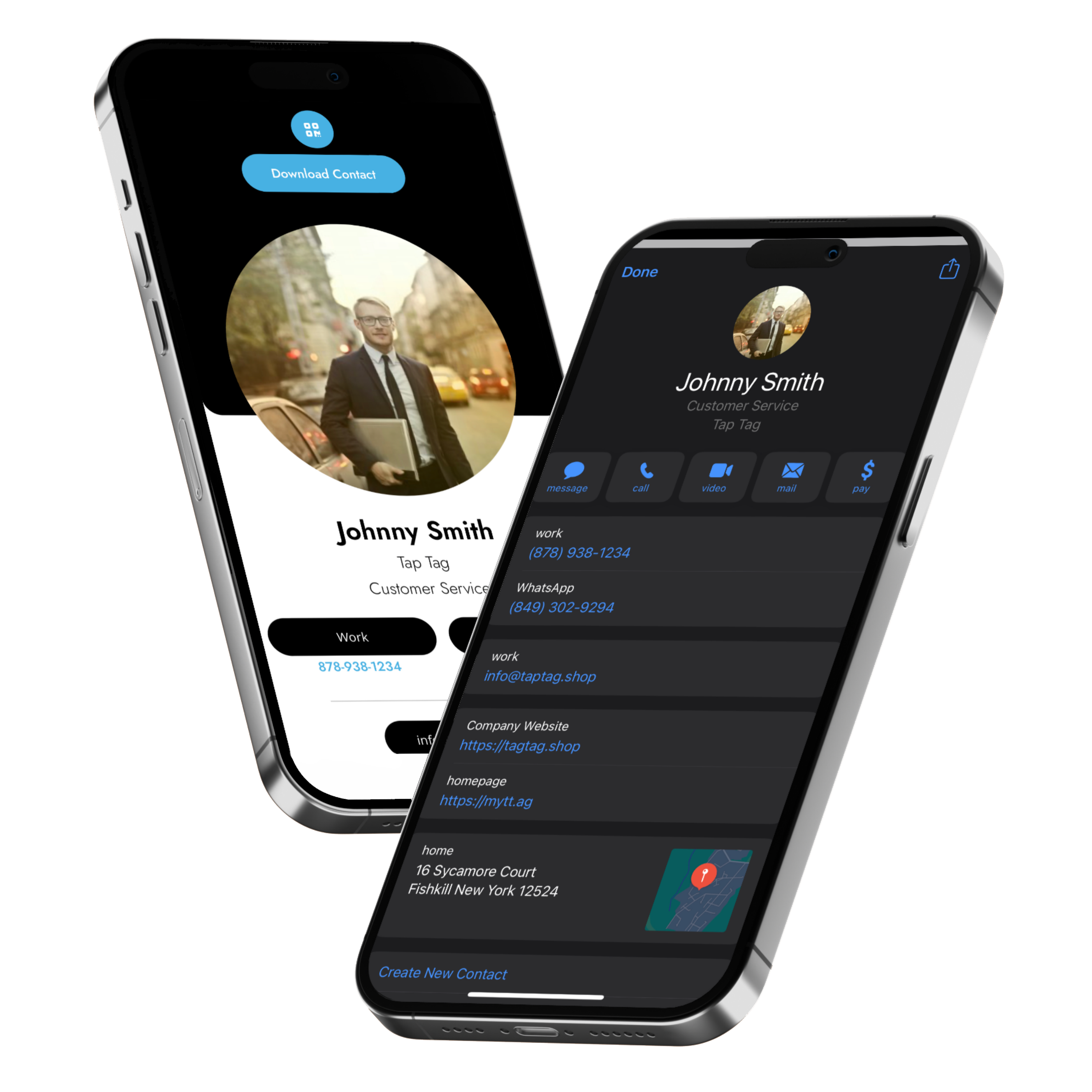 Digital Profile Included
A free digital profile and contact card download is included on every card. Set up your account when your card arrives, then share your info by tapping any smartphone
Learn More
Upload any file type
Upload any image file to our personalizer, or email us if you prefer a more hands-on approach.
Incredible Detail Edge-to-Edge
Full color, edge to edge, front and back. Upload a high resolution photo and we print it in 300 DPI CYMK. We can work with any image file you may have.
Ships Next Business Day
Order 1 for yourself, or 100 for your team. All custom cards are shipped the next business day from NY, beat that.
What is the image quality like?

We are able to print in full color photo-quality resolution edge to edge on the card. The base card is white, so the edges will always be white. 
What file formats do you accept?

All file formats are okay. We will certainly email/text you if an image is not to our liking. It is always a safe bet to upload the largest image possible to give us more room to shrink/expand. 
Is it just a sticker on a plastic card?

No, the ink is sublimated into the plastic to provide the best resistance to scratching/fading as possible. The cards feel like a fresh new credit card but unlike a credit card the edges will not delaminate over time. 
Idk, I want to see a proof before I order

Sure! No problem, just shoot us an email at taptagshop@gmail.com and we will be happy to help or answer any questions you may have. You can also use our live personalizer button to see a live image, add text, change fonts, sizing, etc. 
I'm ordering multiple products, will each have its own profile? Or, can all all of my products have the same profile?

Yes! By default each NFC product comes with its own unique profile. 

Adversely, if you order multiple products and want them all to be connected to the same account instead, you will have the option to merge when you set up each product for the first time.
This product is rated 4.9 of 5.0 stars.
It has received 40 reviews.
Easy ordering, fast shipping!
Ordered my Tap Tag card and it showed up two days later. Had an issue setting it up because my tech abilities have dwindled over the years. Got on a live chat with support and they had me up and running in minutes. The Tap Tag works great, and I've showed it to other friends with businesses and they're all on board.
Thanks guys!
Solid!
Great value! Fast Shipping!! Easy to Set-up and Use!!!
Quality Product, Quickly delivered, As usual!
We have ordered several TapTag cards for the Working Women's Show in St. Louis. They are a great company and a pleasure to do business with. The product ships in a very quick turnaround and the quality is perfect. I would give them ten stars if I could.
Spotty
Scanning the tap tag seems to be a little tricky sometimes. Not exactly sure why.
Shop local!
I almost purchased a different brand of NFC card, but I'm cheap so I was hemming and hawing over the price. Then I stumbled upon Tap Tag and realized that it's technically a local business and I ended up spending more than the original near-purchase 😅 Yea it's online, but I'd rather shop with a neighbor than a stranger out of Timbuktu. Anyway, delivery was impressively fast- I mean, better than Prime in its hay day! And that's saying something. No issues with my order and it was quick and easy to setup. Just brought someone onto my team, so I'll be ordering again soon 😊
Great Service
Great product that is easy to set up and use. Couldn't be happier. I will definitely be adding to more of your products .