View video demos of our software and products below
Help us lower call & video volumes, we ask if you can please review the five most common topics before booking a meeting with us.
How do I set up a profile? Setup Tap Tag? Login?
How do I place an order? Customize my Tap Tag?

Easy! Go to our All Products page to select the product you want, click the yellow add to cart button (for some items it will allow you to customize), then checkout as normal. You profile is emailed to you via the order confirmation or you can set up your items when they arrive.

To Customize with your own logo or graphics view All Custom Products. Select a product and hit the yellow "Add to cart & Customize" button. This is open a window to add text, images, scale, drag, etc. Finish your design and checkout.
Placing a large/Teams order, pricing, turnaround, process, etc

Please go ahead and book a call or video with us if you have specific questions, requests, or just want to talk with a human about ordering.

You may request to see bulk pricing by filling out the form on this page.

Turnaround times are typically one business day per 100 custom items ordered. For example, 200 custom metal tap cards would be a two-day turnaround. Shipping times are typically 3-5 days with faster options available.

The process is quick and easy. Send us your graphics, which product you want, and quantity. We will reply with a proof and a checkout link. After checkout we immediately start production. Set up each card when they arrive.
Can I be an affiliate, reseller, white label, or partnership?

Affiliate: We payout 15% commission for any referral. 30 Day cookies. No mins or max for payout which happens once monthly. Sign up for free here https://af.secomapp.com/taptagnfc/register  

Reseller: Yes. You may purchase Tap Tags and resell them to your own market for any cost you desire. We offer bulk pricing discounts to increase your margin. This option is ideal for agencies that may have a preexisting client list who could be interested in our products/services. We are not looking to create competitors so we restrict outreach, acquisition, or advertising to new customers outside of your direct network.

White Label: Yes, to a degree. If ordering in bulk we can put no branding or custom branding onto your Tap Tags and program any website you desire onto them. We can also ship directly to your customer in non-branded packaging. However, our software cannot be white labled. You will need to have your own software or send to a third party website. We can program items for you or you may program yourself. We are not looking to create competitors so we restrict outreach, acquisition, or advertising to new customers outside of your direct network.

Partnership: We can set up an order portal specific to your business. This is ideal if you or your employees need to quickly reorder company-branded cards at a negotiated discount, or your clients receive special deals through our partnership. We can ship directly to each individual. Order can be made for as little as one item, fully customized, with the same level of customer service as our retail sector.
Tap Tag not working?

1) Remember:

- Iphones scan from the very top center of phone, androids scan from the center backside

- The tag needs to be in the appropriate scan area for 1-2 seconds. 

- iPhones will not scan when locked, they must be unlocked 

- For androids, make sure NFC is turned ON in settings

- The "wiggle" method helps phones pick up the tag easier

View this page for more info and videos. https://taptag.shop/pages/how-to-claim-your-profile 

2) If still not scanning

- if you have an iPhone X, iPhone mini, iPhone 8, or iPhone 7 these phones are too old and do not have Tap abilities.

- Some lower-end androids do not have tap abilities You can find out by going to settings where bluetooth and wifi are located and seeing if there is an NFC toggle. If there is, you have tap, if there is not you may not have.

3) STILL not scanning

Before contacting us, please follow these steps to troubleshoot your Tap Tag.

- Download a free app called NFC Tools

(Android - https://tinyurl.com/Android-App-Store)

(Apple - https://tinyurl.com/NFC-Tools)

- Open, tap "Read" on the first screen. Tap the tap tag with smartphone/

If app reads, exit app and try tapping again. If not working off-app contact us for help. This is a very quick fix.

If app does not read, first review to step #1 to ensure proper technique. Try taking your case off as a test. If not reading with the app at all please contact us. We can help fix.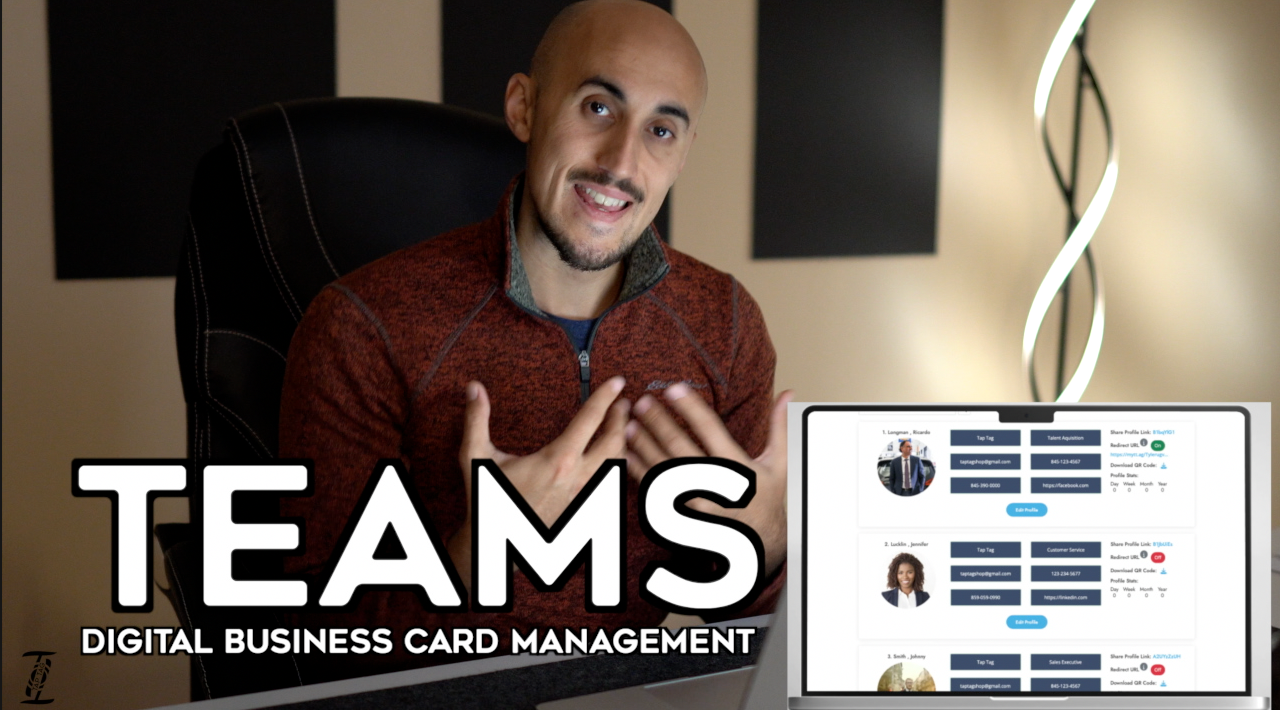 Teams Software Demo
See all employees on one dashboard, edit/manage profile content, assign permissions, see analytics, set a company theme, reassign cards & more.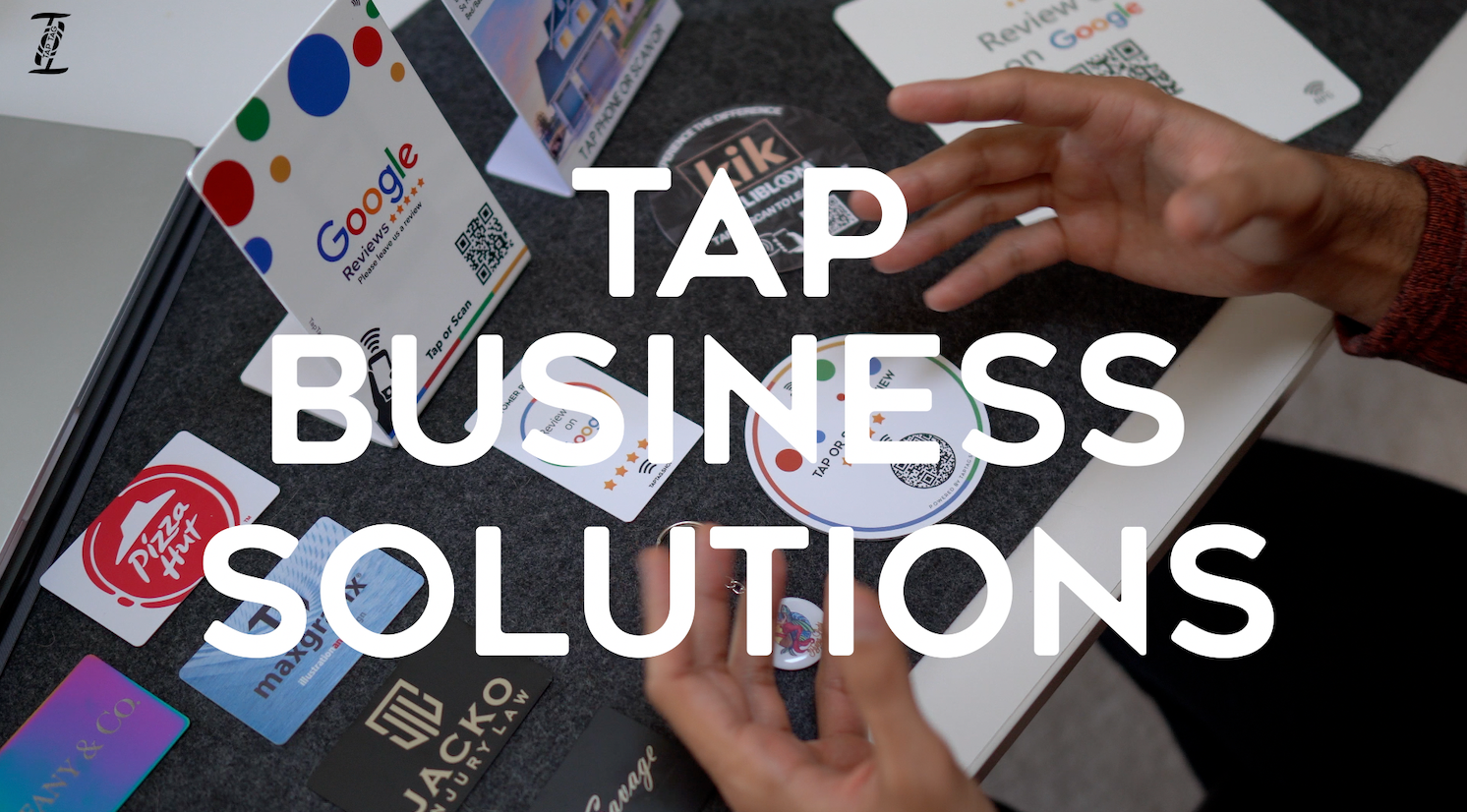 Quick Demo of Tap Tag Products
A quick overview of tap technology, some products we offer, and how it works.