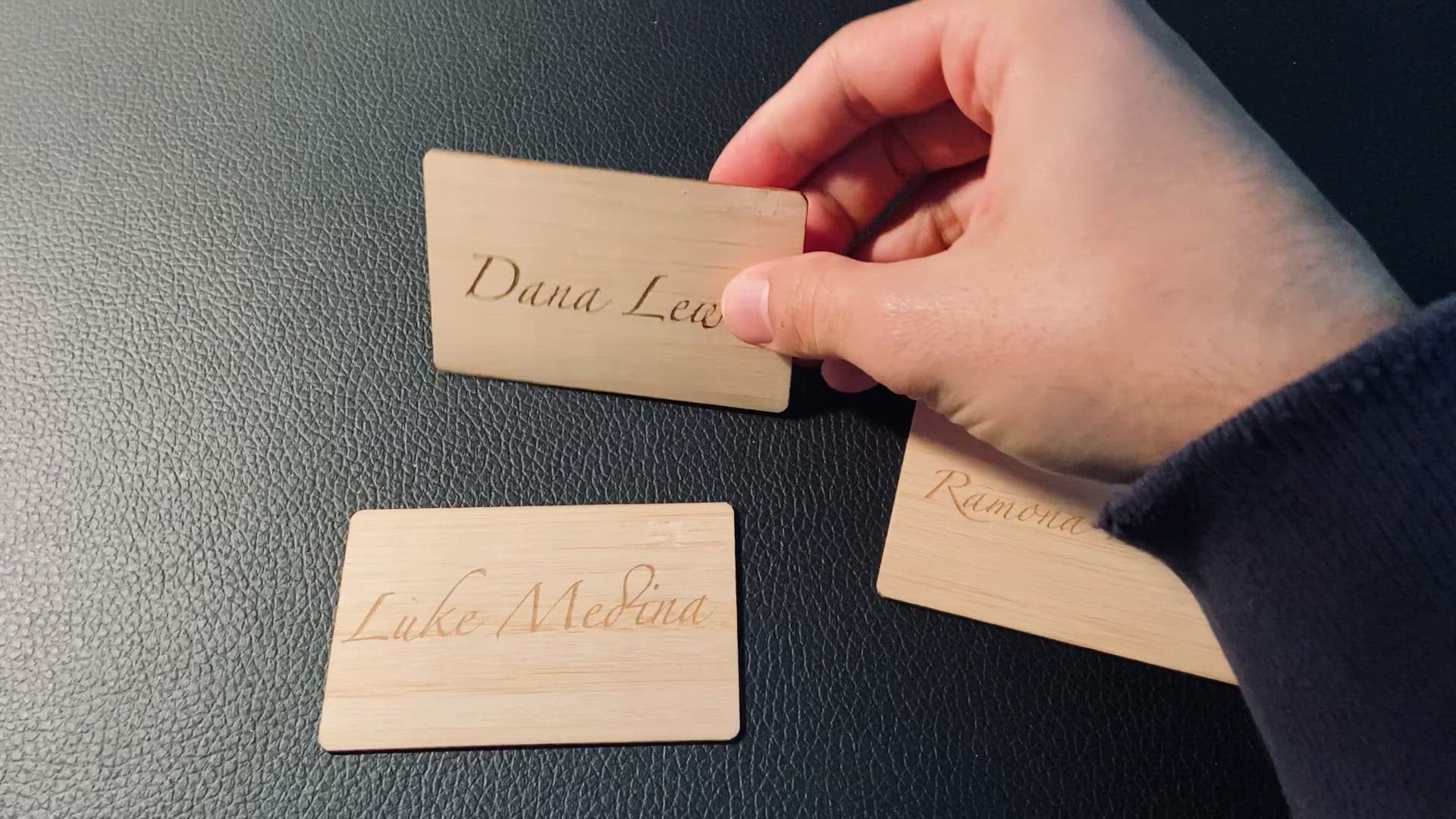 Sustainable Bamboo - Tap Business card
---
Description
Our goal at Tap Tag is to limit the use of paper as much as possible. Our NFC Business Card is made from real bamboo, a sustainable resource that grows at an exponential rate. 
Each NFC business card has a re-programmable NFC chip inside of it with a ready-to-setup profile included. The chip is not visible from either side. Your name and/or logo will be laser-burned into the real wood. 
Customers are able to access your information by simply tapping their smartphone to your card.
No more buying stacks of business cards. Instead, this innovative way to share your information will impress your friends and clients, and make a statement about your brand using innovative contactless technology. It fits beautifully in any wallet and can be used infinite times, no Tap Tag or app needed to scan tag
For bulk orders, visit our Wholesale Options
Made of real Bamboo, your name or logo is burned into the card. 
Comes Pre-loaded with a Free digital profile and a matching QR code, claim the profile by tap/scanning the card for the first time. Manage/edit your contact card at anytime remotely via the dashboard. (make free account on first tap)
No subscriptions. Unlimited tap/scans.
NFC and QR are Dynamic, meaning you can redirect to ANY website of your choice remotely at any time, this temporarily overrides the contact card. Can be toggled on/off any time from dashboard. 
Re-programmable open-sourced chip allows to change the contents of NFC chip at any time
Compatible with almost all smartphones
Do not need a Tap Tag or app to scan card, just a smartphone
Credit card-sized, 85mm x 54mm or 3 5/16in x 2 1/16in
Free Digital Profile Included
Every Bamboo NFC card comes with a unique digital profile that you can customize and use to share your vcard and digital landing page. Comes with a free dashboard to edit at any time.
How fast does my item ship?

We will ship your NFC business card the next business day. Free shipping via USPS typically takes 5-7 days but could take up to 10 in rare circumstances (10 days to Hawaii). We offer upgraded shipping of 1-2 day and -2-3 day available at checkout. Shipped from New York.
I chose the "text only" option in quick personalization options, what font do you use?

We use a custom script-like font as seen in the first few pictures centered and engraved on the front of the card. If you would like a different font respond to the automated confirmation email immediately after purchase.
Where do you put my uploaded logo, and the text if i choose to fill that box in quick personalization options?

This is human-run and is not automated. It's in our best interest to make it look awesome. We typically center the logo in the middle third of the card, if text is added we typically use Ariel font and put in bottom left corner like a traditional business card. If you would like a different format respond to the automated confirmation email immediately after purchase.

Using the advanced personalization NFC card editor, we will always make sure your logo and text look the best it can be. Sometime they may appear off center when editing, we will fix that as we have live people that review each purchase.
Short answer, no. This is authentic wood engraved via laser. This gives it an authentic  look as your name/logo is literally precision-burned into the card.
What's on the back of the card?

Both sides of the card are identical. The NFC chip is completely hidden inside the card and scannable from 3 inches away from either side of the card. 
Yes, we can engrave the back side of the card if that option is selected above. 
I'm ordering multiple products, will each have its own profile? Or, can all all of my products have the same profile?

Yes! By default each NFC product comes with its own unique profile. 

Adversely, if you order multiple products and want them all to be connected to the same account instead, you will have the option to merge when you set up each product for the first time.
This product is rated 4.9 of 5.0 stars.
It has received 56 reviews.
Great product!
Works well - easy to use and very efficient!
Works Great
Ordered this to use for getting Google reviews from our customers and it works perfectly fine, makes it quick and easy.
Tap Tag Looks and Works Great
After continued disappointment using business card apps, I decided to invest in the a Tap Tag. Order was simple and clear and the service was speedy and quality. I ordered the bamboo sustainable card and it's looks fab. The user interface is simple and clear an the profile looks really nice. I'm really happy with my Tap Tag business card. Great value and quality service and product.
Great Digital Contact Card
Easy set up, Nice Looking Contact Page. Scanning is a bit slow, but that's more about the technology than the provider in my opinion. Love this product Highly Recommend!
Amazing!
When I receive red card and really simple to set up and amazing love it can't believe it business card so simple.
Happy with purchase, great way to share contact
Set up was a breeze and works great with the "right" phone to share to. Have had an older iPhone they didn't pick up info and an android. With that said the card has a QR code that is an easy solution to phones that did not capture wireless info.