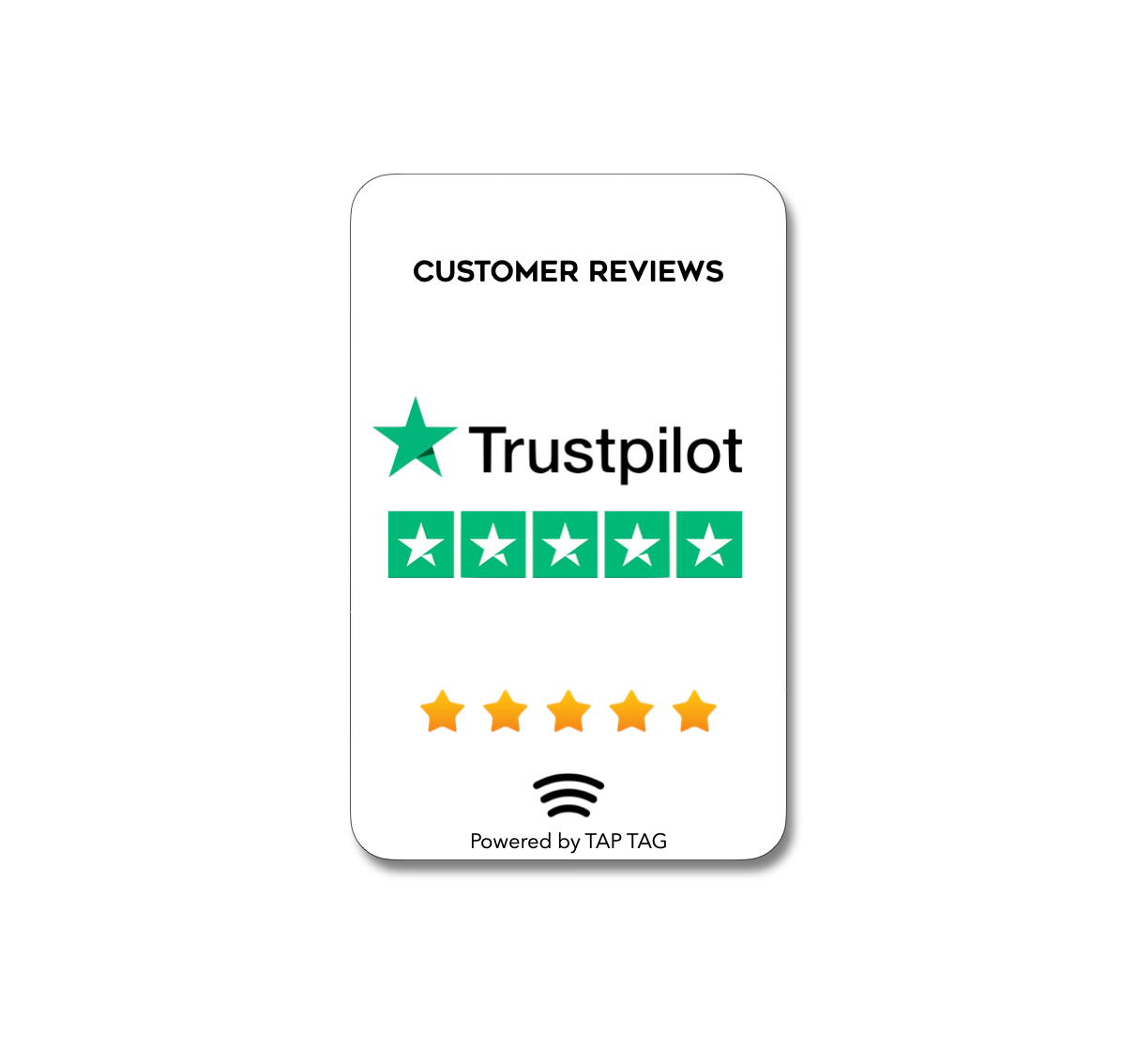 Tap Review Card
Our Tap review card is the easiest way to amplify your online presence with 5-star reviews. Each card has NFC tap technology to share your Google, TrustPilot, Yelp, Airbnb, or TripAdvisor review page to any smartphone. Feel and size of a typical credit card to easily fit into your wallet. 

Speedy customer reviews in just 2 clicks!

How it works: If you sense you have a happy and satisfied customer, simply take out your review card and ask them to leave you a genuine review. Tap your Review Card to their smartphone to direct them right to the review page. The page pops up with the star selection. The customer can choose to leave more context or simply just leave a star rating. 

✅ Unlimited Taps

✅ Links to any review page or any website. Reprogrammable. 

✅ No Subscriptions, just a one-time purchase

✅ No app required to scan, works with all smartphones

For custom review cards, or to add your logo view our Custom Tap Review Card
---
Tap Review cards are a game changer.
Getting just one 5-star review for my business was worth the price of this card, the other 99 Google reviews I got this month was the icing on the cake.
Finally leveled up!
I supplied my team of 8 people with these cards to see who can get the most reviews. We set out to get 40 reviews... we got 138. Great product!!
Worth every penny
More than reasonable price, no subscription, no setup, shipped the same day I ordered, and my new tap review signs work like a charm. Perfect service all around. *clap emoji*
Our reputation significantly increased
My company got one review sign as a tester, it worked so well we just bought 210 more for every franchise in the US. Tap Tag has great customer service and extremely helpful staff.
534%
Average increase in review capture
When compared to email or text review capture.
Tap or Scan. It's that easy.
Tapping with a smartphone or scanning the QR with a camera immediately pulls up the review page of your choice, in this case a Google review.
Make it your own. Ships tomorrow.
You can add your own logo to our current template or completely overhaul with your own edge-to-edge graphic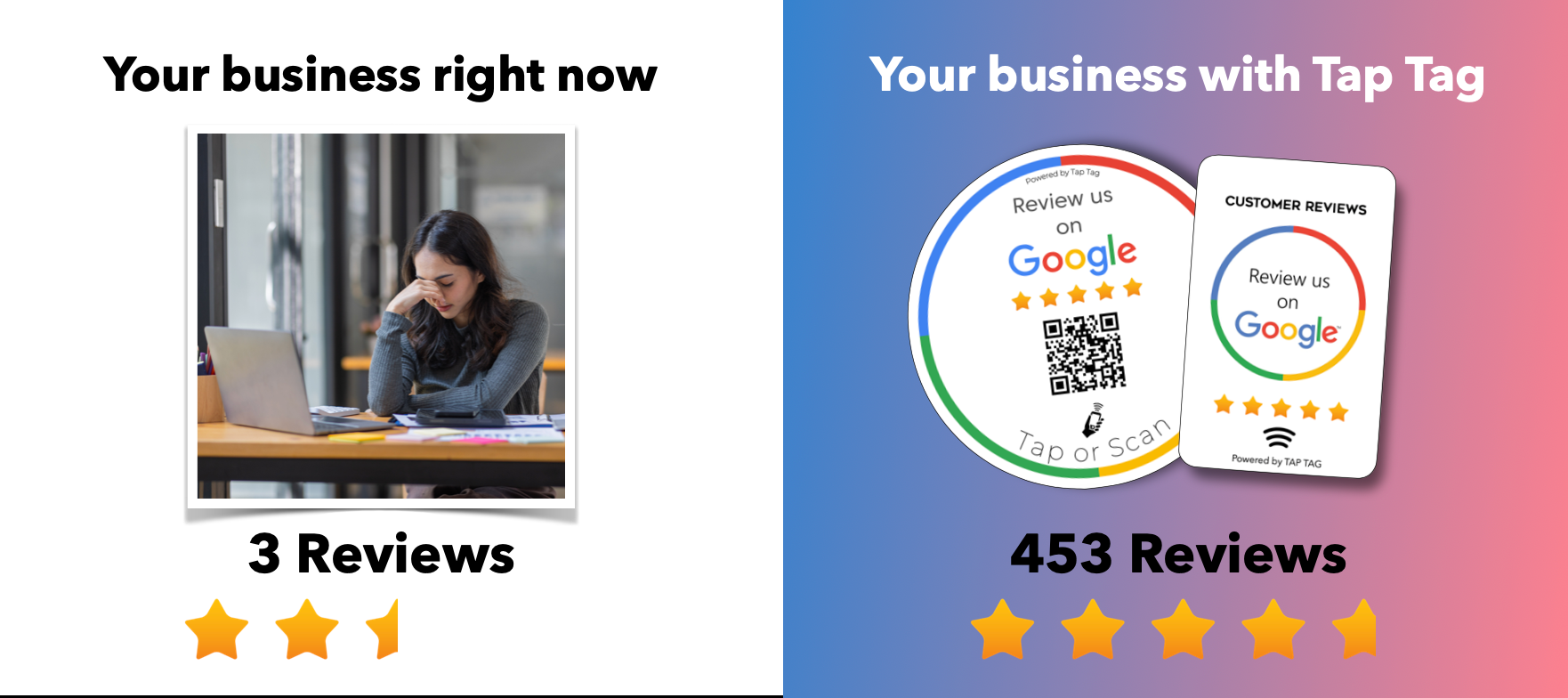 Frequently Asked Questions
How do I find my Google review link?

Get your Google business direct review link:

Login to your google business profile https://www.google.com/business/

Search "My business" on Google

Icons/settings will appear. Click "Ask for reviews' icon

Copy the link, paste it into your order
How do I find my Yelp Link? Trip Advisor?

Simply find your business page on Yelp or Trip Advisor, then select "Write a review" then copy the browser link. Paste it into your order.
What is the turnaround time?

One business day for all custom and non-custom items
Are the items reprogrammable?
What if I don't have a review link?

We offer a quick service to make a review link for you. You will need to have a Google-my-business page or similar for yelp, trust pilot, etc in order for us to create one for you.

In the drop down select the option for us to contact you to make a link.
Are there any other fees or subscriptions?

Nope! None at all. Just a one time purchase of the card. You get unlimited taps with no strings attached.
No set up whatsoever! We will program your review link into the items for you so they are ready for action right out of the box.
Do you have bulk pricing if I wanted a lot?

Yes! Submit an inquiry here https://taptag.shop/pages/custom-bulk-orders
Does this guarantee 5-star reviews?

No. The end customer can still decide to leave any number of stars, like a one-star review. However, for the review card specifically, if you only pull out the card for the most satisfied of customers this is a great way to easily pump up those good reviews.
How does the customer leave a review?

The end customer will simply tap your review item (or scan the QR if it has one) and they will be directed to the review page of the company you choose (google, yelp, etc).

For some sites like Google, the customer will need to have a gmail account in order to leave a review.
Can you customize with my logo/text?
This product is rated 5.0 of 5.0 stars.
It has received 68 reviews.
the tap tag wasn't linked to my business card
It didn't let me set it up and was just another link to my reviews, which isn't a biggie.
7 new reviews in the first 3 days!
Bought tap cards for my delivery drivers and salespeople. Already paying dividends.
Gained 4 new 5-Star Reviews in the First 3 Days!
The convenience of having the tap tag right next to my computer at work has been invaluable to easily and regularly obtain new positive Google reviews.
Custom Tap Review Card - Upload Logo
Perfect
Works great. Support was needed and was excellent