Tap Tag - EARTH ::All proceeds matched toward One Tree Planted::
Our Pledge
Tap Tag 's sharing-technology lessens the need for paper business cards thus saving  trees and our precious earth. We want to take it one step further. After your purchase of Tap Tag EARTH, We will donate 100% percent of the sale and match an additional $15 to OneTreePlanted, a charity that plants one tree per dollar in the Amazon Rainforest or where they are needed most. Thirty trees will be planted on your behalf and this Tag will represent that. You will receive a certificate via email by OneTreePlanted with your name on it. To learn more visit https://onetreeplanted.org/. We will match up to $250 per customer. 


Tap Tag uses special NFC technology to seamlessly share media with others. It can stick to your smartphone, camera bag, or anywhere you see fit. When tapped it shares anything you load onto it securely, like social media, contact info, your website, anything with no app or Tap Tag required to scan. It's like a digital business card that saves you the costs of actual business cards. Oh, and always free shipping to US on any order.
Each tag comes with a free digital profile 



30mm diameter, 3mm thick, epoxy bubble for durability.

No subscriptions. Unlimited tap/scans.

NFC is Dynamic, meaning you can redirect to ANY website of your choice remotely at any time, this temporarily overrides the contact card. Can be toggled on/off at any time from dashboard. 

Re-programmable open-sourced chip allows to change the contents of NFC chip at any time using a free app

Compatible with almost all smartphones

Do not need a Tap Tag or app to scan card, just a smartphone
---
---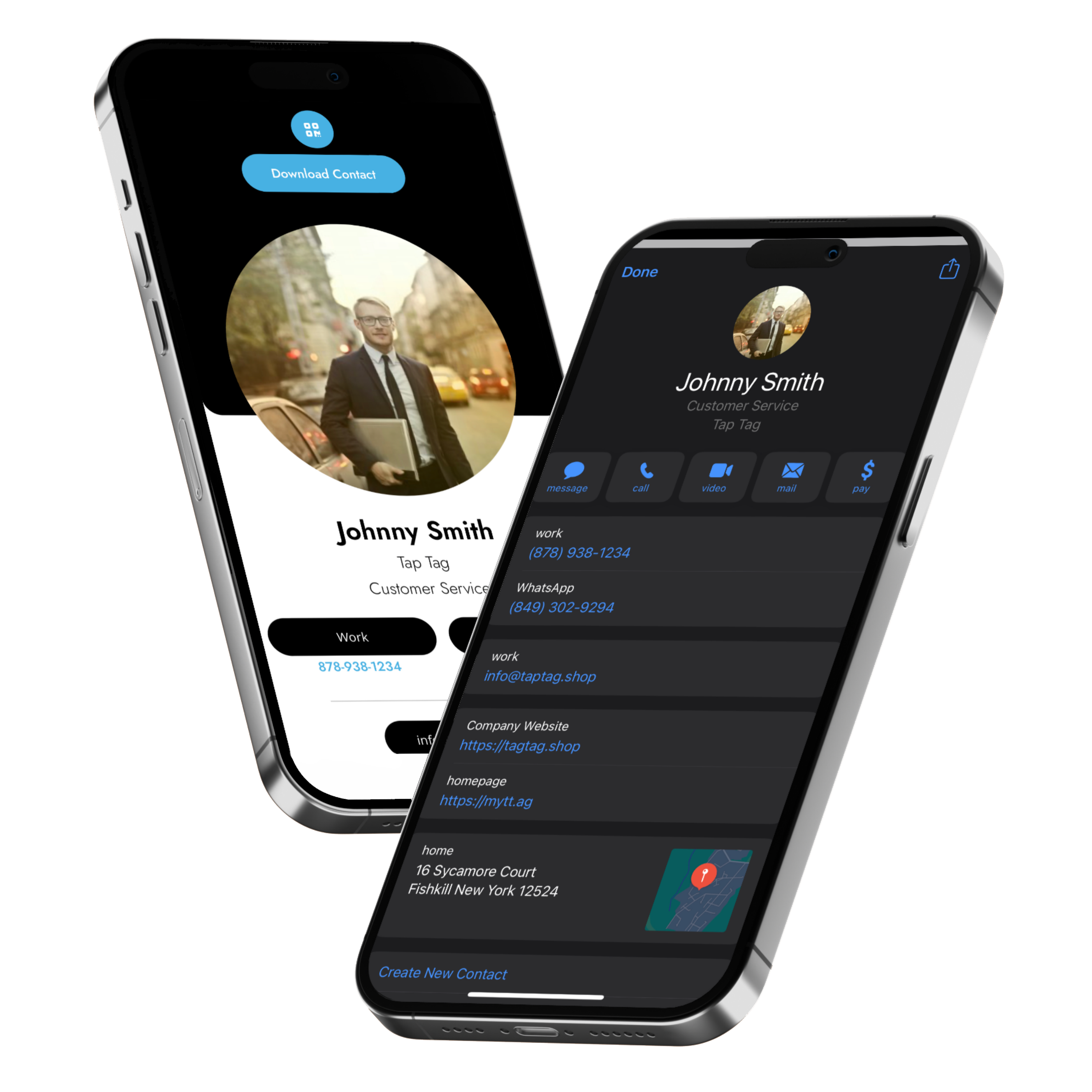 Digital Profile Included
Each Sticky tag comes with a Digital profile and contact-download included. Set up your account when the tag arrives to start sharing
Learn More
This product is rated 4.7 of 5.0 stars.
It has received 178 reviews.
Great Customer Service!
This company takes care of their customers. Awesome product with awesome customer support! Thanks
I reordered within a week of my first order
I originally purchased a few tags for myself and a few of my employees to test and in less than a week I ordered 25 more because everyone I show them too wants one and i am going to give them out to my top customers and prospects with my logo on them.
Tap Standup Counter Sign - Upload Your Design
Got it..works good, very easy..now let's see if clients leave reviews
Custom Printed Button
The NFC chip programmed and works like a charm. The print quality of the QR code I used is a bit blurry, but still clean enough to be read. The sticker seems to be rock solid in place on a cell phone case.
Your custom Tap Tag will ship within 24 hours of your purchase, even if you order just one tag, or 200. We will get it done quickly and efficiently
Very well, same 3M adhesive as a pop socket. It will last the length of your case. You can peel it off with some elbow grease and even re-stick onto a clean surface up to two more times reliably. 
Can I change where the chip directs to?

Yes, all of our products are reprogrammable using a free app. You can change at any time. 
If I get multiple chips, can you program them to different places?

Yes, Our personalizer only allows one link to be added to the order, however if you put "See email" in the pre-program section, order, then reply to your confirmation email with all of the unique links we can program each for you free of charge. Or, you can initiate a conversation beforehand by emailing taptagshop@gmail.com
 If I get multiple chips, can I get a different design on each?

Yes, our personalizer only allows for one upload. After ordering please reply to the confirmation email with your other images.  Or, you can initiate a conversation beforehand by emailing taptagshop@gmail.com. 
I'm ordering multiple products, will each have its own profile? Or, can all all of my products have the same profile?

Yes! By default each NFC product comes with its own unique profile. 

Adversely, if you order multiple products and want them all to be connected to the same account instead, you will have the option to merge when you set up each product for the first time.