Custom Tap Tag - Hyperslim 2.0 - Branded Tap Tags - NFC Keycahins - Counter Signs
Congrats on your new Tap Tag!
This page explains tips and tricks to get the most use out of your sticky tag. 
1) Where to stick?
For the sticky tag, it is best to stick to the bottom 1/3rd of your smartphone. This is the best place to not impact wireless charging and also your phone will not scan itelf by accident. 
2) Can I restick?
For the sticky tag, it has very sticky 3M adhesive on the back. This adhesive can re-adhere to a surface up to 3 times if the surface is clean and dirt-free. Simply peel off and re-stick. 
3) Cleaning
You can clean your sticky tag or keychain with water and a paper towel. If you really need to get dirt off you can also use windex or a non-bleach multi-purpose cleaner.
Where to stick your Tap Tag?
It is best to stick to the bottom third of all phone regardless of Apple or Android. This is the one spot where your phone won't accidentally scan itself and also will not impact wireless charging. 
You may also stick your Tap Tag any where else, like on a desk, window, skateboard, etc. Tap Tag can be placed outdoors if not in direct contact with rain or precipitation.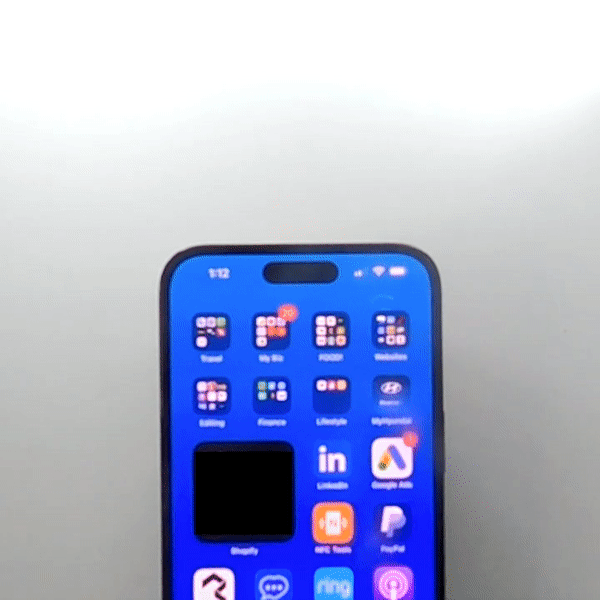 How to Scan
When sharing your Tap Tag, it is best to wiggle or rub it to the NFC area of the recieving smartphone as shown in the video. 
For iPhones, rub the chip to the very top center of the phone either on the front side or backside. The iPhone does have to be unlocked
For Androids, do the same thing but rub the back center of the phone which is where the NFC reader is.
Smartphone Compatibility
Most smartphones from 2018 or newer have native NFC scanning with no app required.
Check Compatibility
Frequently Asked Questions about Sticky Tags
I just received my Tap Tag  - How to create my Tap Tag profile/Contact Card

1) Scan your Tap Tag for the first time to start setting up your account. Tap with smartphone or scan its QR code (if it has one)

2) Choose an option on the first screen you see. 

Option 1: Claim my Profile now - Choose this option if you are managing your own account and profile (Recommended)

Option 2: I have an access code. Link to my company master account - Choose this option if your card was given to you by management and someone else will be managing your account for you. They would have given you an access code to enter. 

Click continue

3) Choose which package works best for you. The free package is free and can be upgraded in the future. Paid packages are billed annually and will revert you to a credit card screen. 

Click Continue

4) Add a username/password which allows you to sign in later to edit your profile. 

Add the contact information you want to be shown on your profile. Hit the + signs to add more info. 

Upload a profile picture. The picture will update upon saving. 

Save your profile 

5) View your new profile. You can click "Dashboard" at the bottom to view your dashboard, this allows you to edit your page further and manage your profile. 

Thats it! Every scan of your Tap Tag will now show your live profile. 
I am not sure how to scan my Tap Tag / Tap Tag not working

See the video above for best practice. If you have tried the above method and your tag still is not working, please reach out to us via email
What is option 1) Claim my new profile

This is the start of setting up your new Tap Tag. By setting up your profile you will be walked through the steps of creating an account, a username, password, and adding your profile info like phone, email, websites, etc. Upon saving your account, your Tap Tag will now share your digital profile with others and allow them to download your contact card with the same info. Making this account also allows you to sign in later and edit your profile at any time, this will automatically update your Tap Tag.
What is option 2) I have an access code, link my profile to my organization

This is only if your direct manager or HR has given you a code, if they did not mention a code whatsoever you will likely be selecting option one.

The access code is necessary if your corporation is paying for our premier package to manage, edit, and see analytics of your Tap Tag/profile. By entering their code, your Tap Tag and profile will now be managed by them. You will have one opportunity to add your info and set up your profile. Upon saving you will forfeit control to your employer and will have to contact them for edits. 

Again, if you were not given an access code then select option one. It can always be linked up later if needed. 
What is "Redirect URL" on the profile creation form?

This allows you to enter any website URL to direct your Tap Tag to. This option would bypass our profile and upon tap of your Tap Tag, send the recipient directly to your desired website, like maybe your Instagram profile, or your company website. Simply paste a website URL, and click "enable" to turn this feature on. Or leave it blank to serve your contact card (default)

This can be turned on/off at any time after you create your account. 
Can Tap Tag Survive Outside?

Yes and no. It will last for a few months but eventually it will start to fade and deteriorate depending on how much direct sunlight and rain it receives. 

As far as temperature, it can withstand 20-100 degrees Fahrenheit on a regular basis. 
How do I link 2 or more Tap Tags to one profile?

We are working on a much more seamless method to do this, which is to be released soon. At the moment there are a few more steps to link products, we apologize. 

1) Create the account of your first item (typically your main item like a card)

2) Once the account is created, copy the browser URL of your profile, it will look like https://mytt.ag/_______. 

3) Start creating the account of the 2nd item (or 3rd, 4th, etc), Stop on the form screen.

4) On the form screen enter in a new email (different than your first account) and a password. In the "Redirect URL" text box, paste your profile URL you copied from your first profile. Then click "enable"

5) Save Profile. Your 2nd profile now directs to your first profile, essentially making both tags serve the first profile. 
I don't want the Tap Tag profile, how do I redirect my tag?
Tell me more about the software (mytt.ag)

You can find all the information about our software on this page