White Label Fulfillment
White Label NFC Business Cards, NFC Tags, & Digital Business Card Software plus Dropshipping direct to customer. 
There is a chance you have been scouring the internet looking for a US-based business that can dropship NFC items for you, that's where we come in.
To sum things up we can ship custom and un-branded NFC Business cards, NFC tags, NFC signs, NFC keychains, and more from New York with a 1-2 business day turnaround. Each item can contain our software or an unbranded version of our software for a one-time charge. Or, you can simply send us your own software or website to program onto the card free of charge. 
As a side note, we have an affiliate program that pays 15% commission with 30-day cookies for any referral. If this is better you may sign up for free here https://af.secomapp.com/taptagnfc/register   
Let's break down how each part of white-labelling operates:
NFC Business Card White Label Fulfillment
Key Perks:
✅ No set retail price, markup to your liking
✅ Discounted rates
✅ One business day turnaround for <10 items
✅ Custom packaging available for additional cost
Perhaps you run a marketing agency and have customers asking about NFC cards, or maybe you run a print shop and want to introduce NFC items to your product line. Either way, if you have clientele we can provide a handoff approach to getting them NFC product and making you some money. 
How our FREE fulfillment works for physical product:
To start the process simply email us to be assigned a Tap Tag representative.
For the first few orders we will ask you to email us the information such as the graphics, type of product, and customers name. We find this hands-on approach best to guide you through what is possible and what is not when it comes to graphics and design. On the flip side, we want to send you manual proofs for approval to ensure we meet your expectations. 
Once we receive the customers information, we will send you a proof and a checkout link. You'll checkout with YOUR email address and the customers shipping information. By using your email you will be the one to receive tracking and Tap Tag emails regarding the order. 
Your customers unbranded NFC products will be shipped in blank packaging directly to them. We can program either our service or your own onto the items. 
After we fulfill a few orders and we both become more comfortable with the process, we will build your own order portal to order from directly without our correspondence. 
Unbranded Digital Business Card software:
✅ Completely unbranded 
✅ No subscription costs
✅ Bulk Pricing
Our digital software is currently run by our sister company mytt.ag (my Tap Tag) and currently links back to Tap Tag to order more product, help forums, our branding is on free profiles, and more. 
We can now remove ALL links and ALL branding from our system. We will provide ready-to-setup profile links that provide all of our great features but without the association to Tap Tag on the dashboard or profiles.
Things to note:
 - We are still the host of the profiles, meaning the the domain is still https://mytt.ag/Yourbrand-ProfileCode. For example it could look like mytt.ag/NikeSales-h9wojs0
- We still collect any upgrades that a customer may subscribe to. The base system is free. Compare free/paid features.
- No Tap Tag branding or backlinks. Free profiles receive the feature of no branding included. 
- One-time cost for non-branded ready-to-setup profiles
- Each link is provided with a QR code, this is useful if printing on your own products 
Pricing is a rolling tier, so if you purchase 200 links today, and 200 more next year the cost would be $200 for the first order ($1/ea), and $162.50 for the second order (50 profiles at $1 tier and 150 profiles in new tier of 0.75/ea)
| | |
| --- | --- |
|  # of links | One-Time Cost |
| 1-249 | $1.00/ea |
| 250-499 | $0.75/ea |
| 500-4999 | $0.65/ea |
| 5000-9999 | $0.50/ea |
| 10,000+  | $0.30/ea |
You can combine these links with our product fulfillment service, or you may get use these links/QR's separately to for your own print services. 
Specifications for Graphics
All Cards, signs, and tags
We accept any file formats and almost any type of image. The best images are vector files or those with transparent backgrounds. We will tell you if something will not work for our needs. 
All cards are credit-card sized to easily fit into a wallet. They are 85x54mm. This is about 3/8in less width than a traditional business card. Graphics can bleed off of the edge of all of our items. 
Metal Cards 
Metal cards are engraved only. There is no color other than the natural color of the steel or brass. Steel cards engrave to be silver on black or white, brass cards engrave to be gold on black. There are no other color options available at this time. The best graphic is one that is solid in color, black on white. If there are colors we can remove them but it is best if they are at least solid. 
Metal blocks NFC so there has to be an exposed portion of the card that is plastic, our current chip takes up 50% of the backside of the card and is off limits to graphics. 
Wood Cards
Similar to metal cards, the wood cards are engraved only. Graphics are burned into the wood. The chip is embedded inside the card and is not visible, therefor giving full real-estate on both sides for graphics. 
Plastic Cards
Plastic cards give the most flexibility, both sides of the cards can be printed edge to edge in full color. There are no limitations. 
NFC Tags, Keychains and Signs
We can print edge to edge in full color on the frontside of the item. 
Sticky tags - 30mm or 35mm
NFC Keychain - 30mm
NFC Counter Sign - 100 or 125mm (4 or 5 inch)
Standup Sign - 5x6inch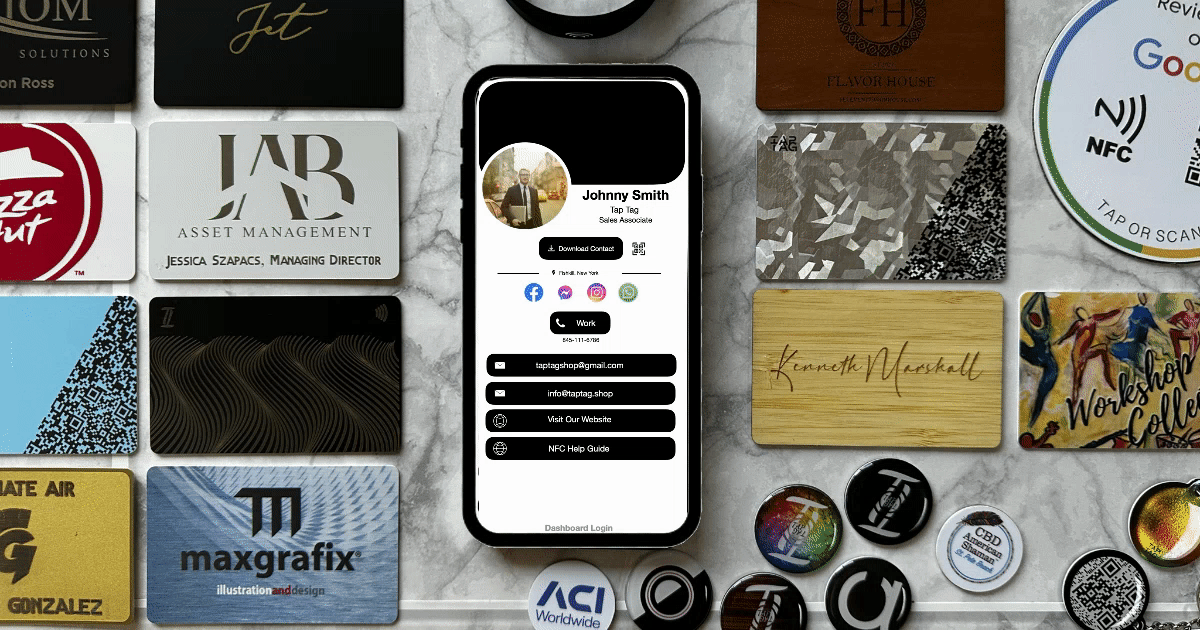 Unlock the power of our products and software