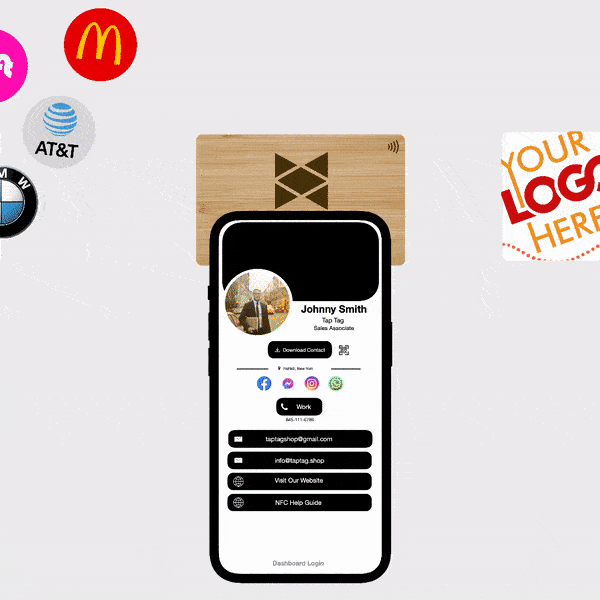 Award Winning Selection of Digital Business Cards, Tags & More
ALL of our products have Tap-to-Share NFC Technology.
All Tap Tags come with a free digital profile, contact download, and a dashboard to edit and manage.  All of our fully-custom products use NFC technology to seamlessly share data to any smartphone just by tapping. 
Works on Apple and Android, no app needed, no subscriptions required.
The most affordable custom NFC Business Cards and custom NFC Tags, with an industry-leading 1-day turnaround time.  All of our unlocked NFC items come pre-programmed with a unique contact card & profile.
#1 Selection of Tap Cards
All products come with a powerful digital profile dashboard to manage your Tap Tags in real time, redirect to any site, share your contact card, and more.
Sale price

From $49.95
Regular price

$64.95
4.8
Sale price

$69.95
Regular price

$109.95
5.0
Sale price

$79.95
Regular price

$99.95
4.8
Sale price

From $49.95
Regular price

$64.95
4.8
Sale price

$32.95
Regular price

$39.95
4.9
12 Color Options
3 Material Options
Sale price

From $9.95
Regular price

$15.95
4.9
Amplify your business
All Tap Tags allow you to choose to use as a business card to share your contact info, or as a review-capture tool to increase Google and Yelp reviews. Choose at setup, change any time.
View all
Sale price

From $44.95
Regular price

$64.95
4.8
Sale price

From $24.95
Regular price

$34.95
4.8
Sale price

$74.95
Regular price

$99.95
4.7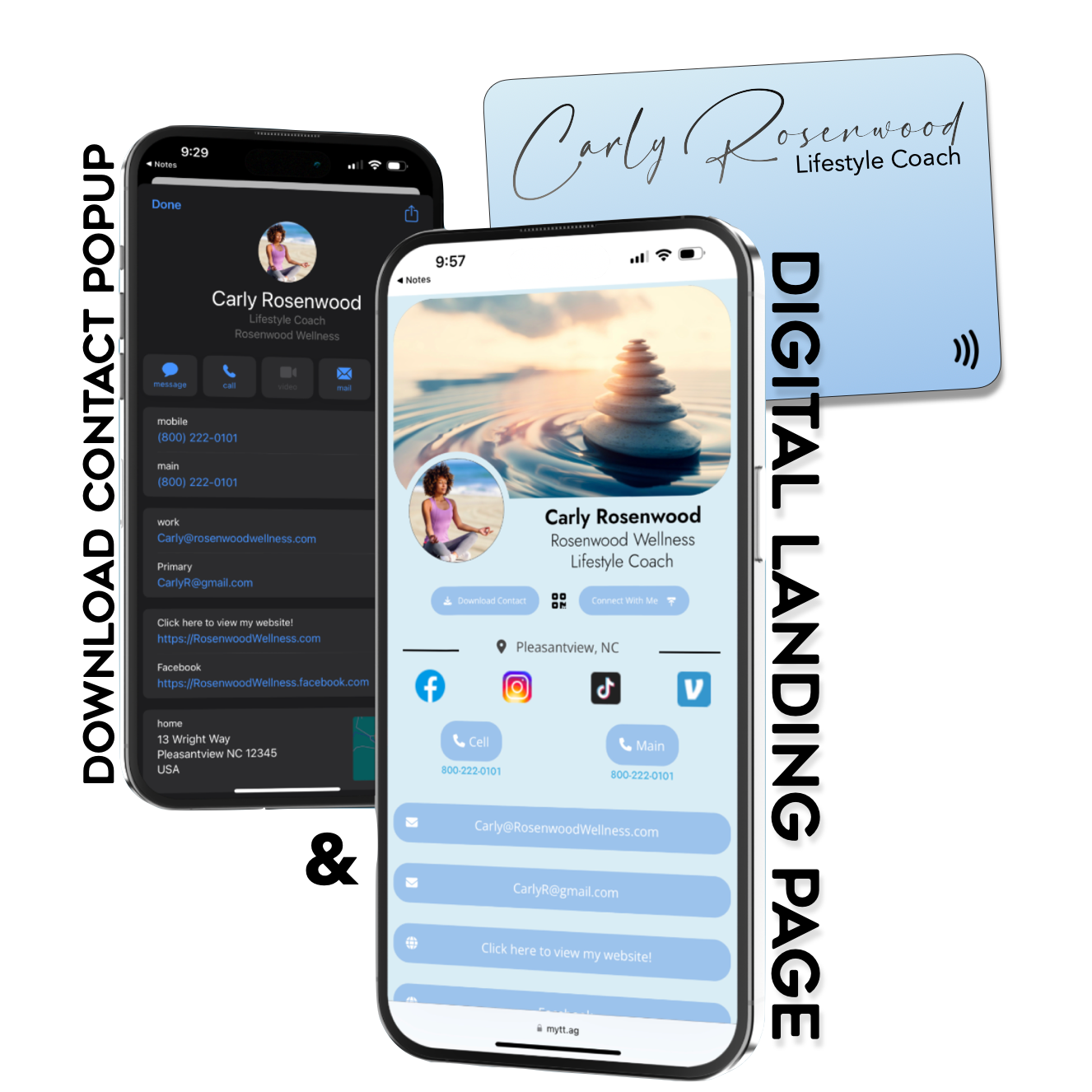 No Subscriptions Required
Every Tap Tag comes with a free-forever digital profile, a free contact card, and a free dashboard to manage it at any time, from any where. Pro networking features are available too.
Compare Free vs Pro Features
Make Tap Tag your own
Our easy personalizer tool enables you to add your own text and graphics to over 90% of our tap items, all with a one day turnaround and fast shipping.
View All Custom Items
7.2 Million
Trees cut down for paper business cards each year
11.6 Billion
Paper Business cards are made each year
88%
Paper cards thrown out within a week of receiving
Over 2.8 Million Taps
Of our reusable NFC business cards, let's make an impact together.
Your contact information can be saved to multiple clients smartphones by tapping your Tap Tag over and over again, infinite times. Every tap saves a paper card.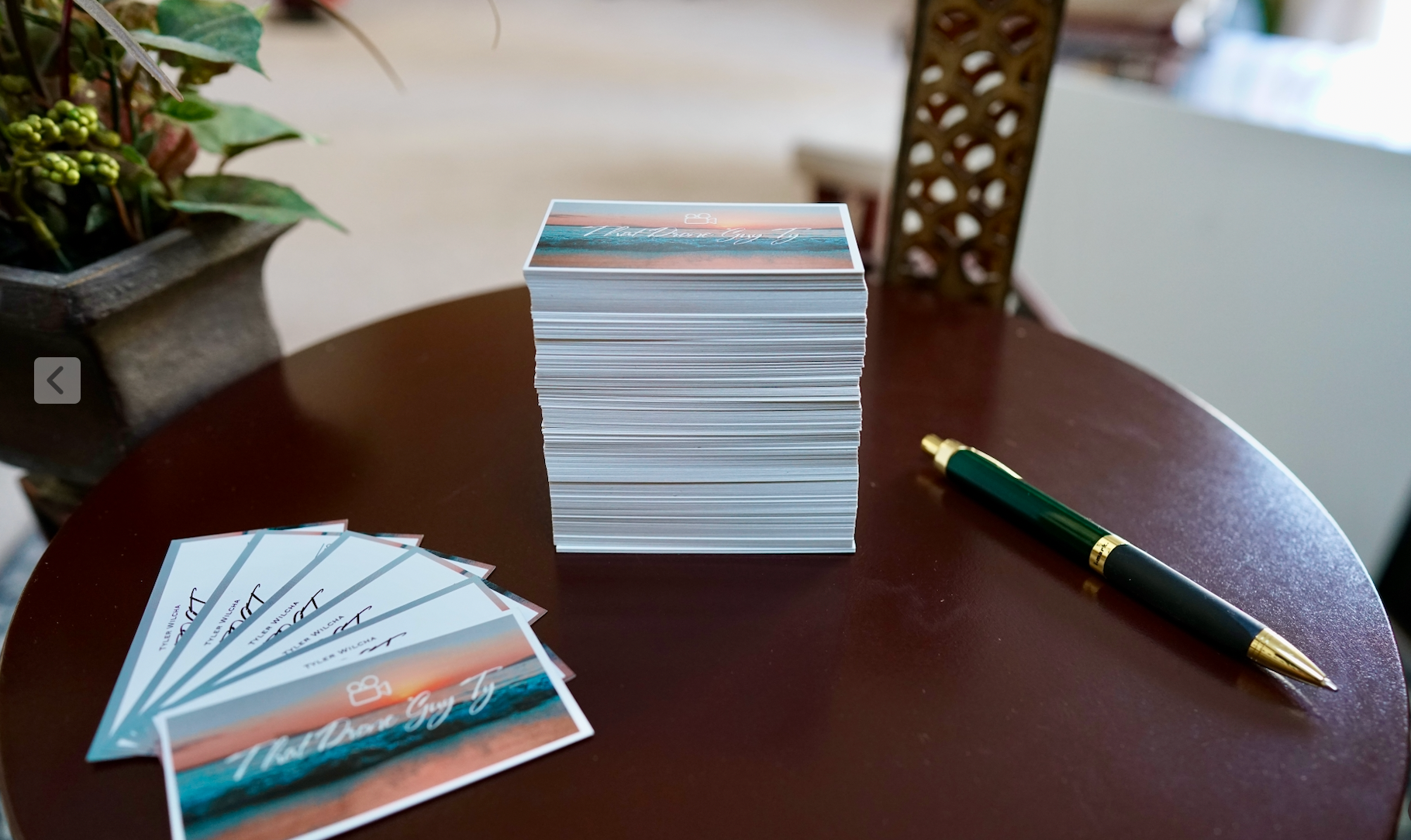 250 Paper Cards
Tap into advanced networking
Features to fit your needs
All Tap Tags come with a free-forever Starter profile to edit & manage your digital business card from anywhere in realtime. Upgrade to Pro to take your networking game to the next level, or manage a team of 2 to 100,000 employees.
Learn More
Contact download button/popup
Contact Exchange button/popup
—
Add to Apple/Google Wallet
—
98%
5-Star Customer Satisfaction Rating
Let customers speak for us
Here's a recap
There's a lot to take in. Here's the main things that separate us from the other guys.
ALL Products have Tap-to-Share NFC abilities

We specialize in NFC, which is the technology that allows you to tap your smartphone to a tap card, tag, bracelet, sign, or any of our products to receive a contact card, digital profile, or any website.
All Products Come with Free-Forever Software

No subscriptions.

y default a blank contact card & digital profile comes standard all Tap Tag Products, claim the profile on first tap and add the details you want to share. Every tap after will show your profile and contact card to others.

To learn more see mytt.ag.
All products, and we mean ALL are shipped the next business day from NY. Want a fully custom NFC Card? Shipped next day, want 50 custom NFC cards? Shipped next day. 200 Custom sticky Tap Tags? ... Next day. 

Free US shipping over $25, with upgraded options at checkout like 3-day and overnight. With overnight you can order a custom NFC Business Card Monday and have it in hand on Wednesday. Beat that other guys!
Most Products are Customizeable

95% of our store contains fully personalizable tap NFC products. Add your name, upload a logo, remove branding, direct to any website of your choice, and even reprogram your item at any time for free if you wish.

To customize, go to the product page and click the Customizer button
Remotely Redirect your Tap Tag in Realtime

Using the default free Tap Tag Software you can remotely change the NFC and QR on your Tap Tag.

Don't want to serve your contact vcard? Then redirect to Linktree, LinkedIn, Instagram, your company profile, or even a competitor profile. Toggle on/off and change whenever you want from your Tap Tag dashboard.
Get 1 for Yourself, or 1000 for the Team

No minimum quantity required, and also no maximum. We offer bulk discounts for just 5 or more of the same item. Contact us HERE for a speedy quote. Sticky Tags and PVC Card bulk prices are available on the products page.
Customer Service is our #1 Priority

If you need help or are unsatified with your purchase please email us and we will do everything in our power to make it right. 

We are available on the chatbox 10am-10pm M-F to help if you have a question. If we don't respond, leave your email and we usually get back to you shortly.
We are here on live chat 10am-10pm Eastern time. We typically respond instantly, but if we don't leave your email and we'll get back within an hour.
Current email answer time: 19 Minutes
Email Us Now